Richard J. Harding, MD, FACS is a board-certified General Surgeon and has been in private practice; performing general surgery procedures since 1995. Dr. Harding has more than 25 years of experience in using minimally invasive surgical techniques. Dr. Harding's skill at small incision surgery and his high success rate, attract patients not only throughout Arizona, but from neighboring Utah, Nevada and New Mexico, as well as California, Canada, and Mexico.
Dr. Harding utilizes the most modern surgical techniques for general surgery which yields excellent results with shorter hospital recovery. This includes operations utilizing advanced laparoscopic surgery and robotic assisted laparoscopic surgery.
Dr. Harding has dedicated a large part of his practice to endocrine surgery. He has performed over 1900 endocrine operations within the last 5 years, for adrenal, thyroid and parathyroid conditions. He is active in the American Association of Endocrine Surgeons. He is the first surgeon in the Southwest to perform a Transoral Endoscopic Thyroidectomy, which has the benefit of leaving no visible surgical scar. He is very familiar with the latest treatment guidelines for both thyroid and parathyroid diseases. He now also performs a Laparoscopic posterior adrenalectomy which significantly decreases recovery time for adrenal surgery conditions. For patients' convenience, many diagnostic tests and minor procedures can be performed in his office, including diagnostic ultrasound, ultrasound lymph node mapping, and ultrasound guided thyroid nodule biopsies.
Dr. Harding also treats simple and complex hernias, gallbladder disease, colon cancer, diverticulitis, and gastroesophageal reflux conditions. He performs many abdominal wall reconstructions in patients who have complex hernia conditions, usually resulting from prior surgical procedures or prior failed ventral hernia repairs.
Dr. Harding graduated Magna Cum Laude from Vanderbilt University and went on to graduate from medical school at Vanderbilt University School of Medicine in 1989. He completed his surgical training at Georgetown University in 1995. Dr. Harding also served in the US Naval Reserve from 1989 to 2004. In 2003 he served on active duty as a Commander in the U.S. Navy in Operation Iraqi Freedom.
Dr. Harding is a founding member of Arizona Associated Surgeons, a private practice formed with the goal of providing state-of-the-art, comprehensive patient care. He now serves as the Section Chief for the Division of General Surgery at St. Joseph's Medical Center.
Through his education and years of practice, Dr. Harding developed expertise in performing minimally invasive operations, which utilize small incisions. This type of surgery allows patients to recover more quickly, with less scarring and pain. Regarding his approach to surgery, Dr. Harding says, "I enjoy helping patients feel better. It gives me great satisfaction to perform surgery that not only addresses the surgical condition but also provides a substantial improvement in his or her quality of life."
Dr. Harding is happily married to a beautiful nurse, with four children and has resided in Arizona for the past 22 years.
Dr. Harding is a member of these organizations:
Southwest Surgical Society
Video of Dr. Harding's Medical Mission for Kenya Relief - 2018
If video is not loading properly, please click or tap this Link
Learn more about Kenya Relief, www.kenyarelief.org
Producer of Kenya Relief Video, "Side by Side": Amy Montalvo, ONEPASS Productions, www.onepassproductions.com
Video of Dr. Harding's Medical Mission for Kenya Relief - 2019
Learn more about Kenya Relief, www.kenyarelief.org
Patient Testimonials:
Randy M. - "First, let me say that Dr. Harding and his office staff fully deserve the five star rating I've given. For my first consultation, the doctor scheduled ample time to describe, in detail, what needed to be done and how the surgery would be. He answered every question and patiently went into as much detail as needed to ensure I was fully informed. When the surgery had unexpected complications, the doctor took the extra time needed to address them, and the operation was a huge success. His office staff are friendly, attentive and very professional. You cannot get a better doctor."
Frank H. - "Excellent surgeon. He is considered to be one of the best surgeon for the procedure I had, a total thyroidectomy. My wife is a retired RN and was totally impressed."
Lynette S. - "Dr. Harding is a very pleasant Man, very personable , easy to talk to and explains things so that you understand them. My experience was one of the most pleasant in my 72 years. Made me feel comfortable and treated me very respectful. Thank you so much!"
Source: Google.com - Google Reviews Link
Source: Healthgrades.com - Healthgrades.com Review Link
Margee B. (handwritten card) - "Dr. Harding, besides being a wonderful surgeon, you are also kind, compassionate and caring. There are no words to express my appreciation."
Willey T. (handwritten card) - "I want to take this opportunity to thank you for your exceptional level of skill, integrity and care which you have provided me. I appreciate your honesty and the time you have taken with me. I am grateful to have you as my surgeon."
Kristen G. (handwritten card) - "I wanted to thank you for the excellent care I received throughout my surgery. I am beyond thankful that you are so ambitious and skilled. I truly admire your dedication to your practice, you are an impressive surgeon with cutting-edge expertise. From the moment I explored your website to the moment I met you, I knew I was in capable hands. I appreciate learning how you not only help patients locally, but globally. You touch my heart, thank you for being such an amazing human being!"
Tracey M. (handwritten card) - "Thank you for putting an end to my nightmare!"
Rachel M. (handwritten card) - "Dr. Harding, thank you so much for the wonderful care you gave me during my surgery last week. Your passion for your work did not go unnoticed. Your knowledge and skill are very much appreciated!"
Aleasea B. (typewritten card) - "Dr. Richard Thank you SO very much for a flawless surgery! The experience was professional and absolutely 5 star!!"
Dr. Harding is proud to be a contributor and supporter of St. Joe's Robotic Program and the Red Rocks Music Festival.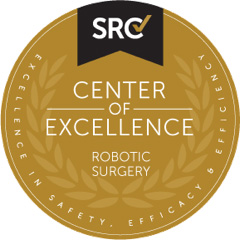 For more information on the Red Rocks Music Festival please click this link: Red Rocks Music Festival
Dr. Harding Training Surgeons Of The Future